History
The valley of Casentino, during the Etruscan era, gained much interest and importance for its geographic position that served as a thoroughfare to cross over the Apennine mountain chain.
The end of the Roman Empire and the Barbaric invasions marked a long period of decline.
It was only in the medieval period, the VIII century, with the Lombardi settlements that a strong, defensive net was established along the various routes.
They built a series of castles that are still possible to admire that are closely correlated with the great dominant families.


The most powerful were the Count Guidi, the people of Poppi, Romena, Porciano, Urbech, Castle San Niccolò, the Collina district, Fronzola and Raggialo; and the Tarlati and the Ubertini from Arezzo, the people of Bibbiena and of a few of the castles of the Aretine mountainside. These were, for the most part, destroyed during the numerous battles between the Guelfs and the Ghibellines.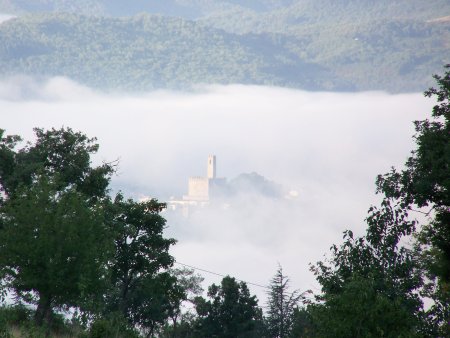 The Campaldino battle (Poppi, 11 June 1289), described in Chant XXII of Dante's Inferno, and the battle that Dante Alighieri took part in, sanctioned the definitive victory of the Florentine Guelfs over the Aretine Ghibellines.
With the defeat of the Guidi Counts during the battle of Anghiarion 29 June 1440 (originally frescoed by Leonardo da Vinci in Palazzo Vecchio in Florence, but has since been lost), the Casentino was completely aggregated to the Florentine republic and according to Tuscan history was consequently passed on to the Medici and then to the Asburgo Lorena.
The Romans and the Etruscans
Many of the Etruscan sites are found from the Pieve (rural church) to Socana, situated on the right hand bank of the Arno River in the Commune of Castelfocognano, to the excavations of Idoli Lake in the high part of the Comune of Stia, near the source of the Arno River.
The numerous Romanesque rural churches spread about all of Casentino were built of the remains of Etruscan temples and on Paleo-Christian churches that today represent perfect and typical jewels of the landscape. Romena, Stia, Vado, and Montemignaio are the most famous and modernized and reconstructed throughout the past centuries. The Archeological Museum of Casentino (Partina-Soci) is a great source of interesting evidence.